Description
Designed to provide stability and support following injury or reconstruction of the ACL/PCL/LCL, The Functional ACL Knee Brace features a lightweight sturdy frame lined with durable soft goods for the combination of optimum support and comfort. This is the perfect brace for those active patients needing additional support during recovery.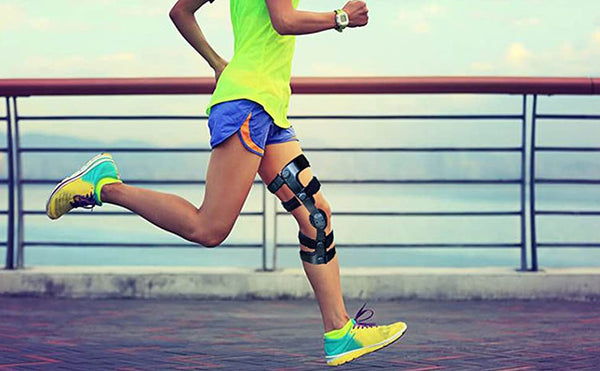 Indications:
● Knee instability due to anterior and/or posterior cruciate ligament ( ACL/PCL/LCL injuries )
● To restrict the range of motion after reconstructive surgery
● Recommended for low to medium impact sports.
Features:

● ROM hinges with plug-in flex/ext stops

Extension limitation at: 0°, 10°, 20°, 30°, 40°, 45°
Flexion limitation at: 60°, 75°, 90°
● Hypoallergenic silicone-grip strap pads for anti-migration
● Concentric condyle pads correspond to bilateral femoral condyles.
● Numbered straps provide desirable counter force and adjust optimal size.


Size:
           S, M, L, XL (Left/Right) 
*Thigh Sizing Guide measure 15cm (6') above the medial condylar plateau. 
*Calf Sizing Guide measure 12cm (5') below the medial condylar plateau.
Size
Thigh Circumference (in)
Calf Circumference (in)
 S
    12.5"-15.5"
    8.5"-11.5"
 M
    15.5"-18.5"
    11.5"-14.5"
 L
    18.5"-21"
    14.5"-17"
 XL
   

21"-23.5"

    17"-19.5"
Remarks:
60 days full refund for ANY reasons, contact Orthomen at any time for any questions, JUST ORDER NOW!
Payment & Security
Payment methods
Your payment information is processed securely. We do not store credit card details nor have access to your credit card information.
---
Security
60-Days MoneyBack Guarantee
Orthomen Brand Products
We offer 100% Risk Free Purchases on Orthomen brand products. Our specially designed products come backed by an industry leading guarantee. Feel good about shopping because we completely removed the risk.  If you need to redeem your guarantee you will receive a fast and courteous replacement, refund or exchange.  Each product page will specify which the length of the product's guarantee.  
Only products purchased through Orthomen.com are automatically registered in our 60-Day Money Back Guarantee program.  Purchases through 3rd party channels are only guaranteed if registered within 30 days of purchase. 


Details:
Please also note that product must be purchased through Orthomen or an authorized retailer for the guarantee to be valid. Authorized retailers include:
Counterfeit or replicas items are not covered by Orthomen's Guarantee policy
Products purchased used or through re-sale are not covered. 
Each purchase can only receive one guarantee redemption.  We can not continually refund, replace or exchange your product.
The term "Lifetime" means the estimated lifetime of the product covered within the specific warranty.
Visit Shipping / Return Policy Page for return related questions.